GK gluggar ehf. was founded in September 2004.

GK GLUGGAR produce premium quality windows and doors with professionalism and precision all to the same world class standard. Windows and doors produced in GK gluggar ehf are approved under Icelandic standards to ensure quality production.

The company has extensive experience in production of windows and doors. Every single window and door is produced in accordance with an individual specification.
Address and contact info
GK Gluggar ehf
Norður-Nýjabæ
851 Hellu
ICELAND

+354 566 6787
+354 566 6765

Contact persons:
Hallgrimur Oskarsson - halli@gkgluggar.is
Gyda Helgadottir - gyda@gkgluggar.is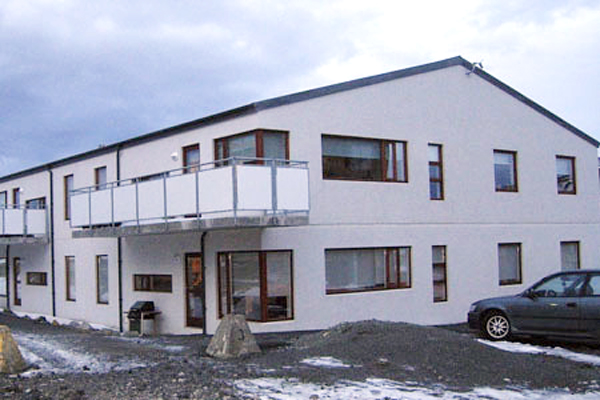 Windows and doors can be made from many wood species. GK gluggar ehf only use selected ingredients to ensure quality production.
The main wood species are:
-Pine
- Oragon-Pine (hardwood)
- Mahogny (hardwood)
- Tekk(hardwood)

Usually Pine is only used in in doors- and windows frames but GK windows ehf uses only hardwood in sashes and doors.
Eftir staðfestingu frá verkkaupa getur framleiðsla hafist.
Wood is a natural material which adapts itself to the environment. The humidity of selected wood in windows and doors it needs to be 12-14%. When producing windows and doors it also needs to keep right humidity in the timber production. In the plant are moisture sensors to keep the right humidity in all production stages.

In combination of windows and doors, there is put glue on all corners of windows, doors an sashes to keep the right humidity in the material.

When doors and windows are placed in houses, especially houses under constroction, it is important to note characteristics of this natural material, it adapts itself to circumstances.
Anim pariatur cliche reprehenderit, enim eiusmod high life accusamus terry richardson ad squid. 3 wolf moon officia aute, non cupidatat skateboard dolor brunch. Food truck quinoa nesciunt laborum eiusmod. Brunch 3 wolf moon tempor, sunt aliqua put a bird on it squid single-origin coffee nulla assumenda shoreditch et.